#SUN21 - be confident!
Registration is now open – get your free ticket for Startupnight #SUN21 now!
Startupnight #SUN21, one of the largest startup events in Europe, will take place for the 9th time in Berlin on Wednesday, 01 September 2021, to bring startups and investors together for networking, matchmaking, talks and discussions.
With stage programs, workshop sessions and pitch opportunities, experts from venture capital firms, corporates and funding institutions will give founders the opportunity to present themselves and their innovations and get answers to their questions on important topics such as funding. Startupnight 2021 will take place for the second time as an online event and will be streamed from 11:00 am to 2:00 pm.
#SUN21 #beconfident
Save the date – on September 1, 2021, Startupnight will take place for the 9th time.​
For the second, and, #beconfident, hopefully the last, time, Startupnight will be a digital event. We will have awesome speakers on site at hubraum, but as of now our audience can only participate remotely.

This year we are going to focus on topics around recruiting and around developers! We will follow-up shortly with more details on our program, on tickets, on ways to take part for our audience. If you want us to tackle a particular topic, don't hesitate to drop us a note!

Until then, make sure you follow us on your preferred channel!
#SUN21 partners are Deutsche Telekom, hubraum, Investitionsbank Berlin, Berlin Partner and On the Rock.
#SUN21 #beconfident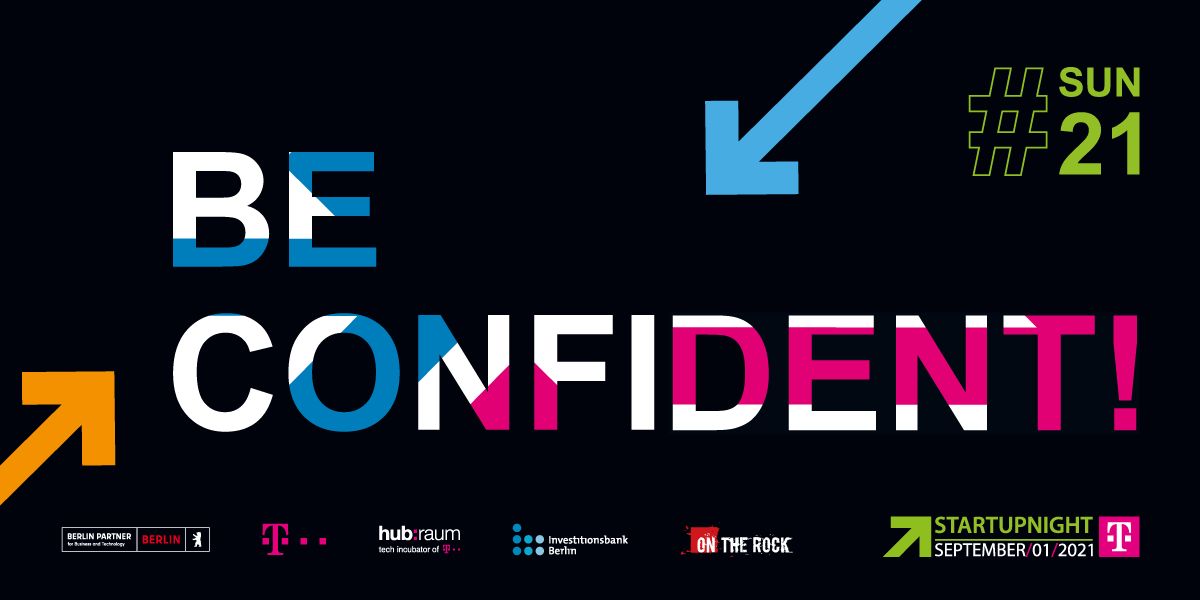 Stay in touch and register for our newsletter!
Startupnight's Partners