Startupnight 2018
Startupnight is taking place on September 7th at 4 locations. The exhibition starts at 5 pm and ends at midnight. We have more than 200 startups from several industries. They will show their company and latest products - lots of exciting and inspiring things to see.
Once again, we would like to put you in contact with our large network of corporates, investors and business angels – helping you to accelerate your business and expand your network!
For the first time ever we have a special offer for all parents: At the Volkswagen location we offer a kids care to give you the chance to take your time and dive into Startupnight. This is completely free of charge. There will be a programming workshop for kids by coderdojo.com too.
Don't hesitate - let the night begin!
Get your ticket here.

The program on the main stage
This is the program on the main stage at Deutsche Telekom's Representative Office.

Startupnight @DRIVE. Volkswagen Group Forum
"Volkswagen Innovation Summit at WeSpace" panels and talks with Sarah Elßer
The panels and talks start at 6.00 pm
6.00 pm From Kidscraft to xStarters – Talk about the social responsibility as a passion
6.45 pm A vision beyond the car – Talk with Volkswagen WE
7.15 pm A lab is a Lab! Is a lab? – Panel with Audi Denkwerkstatt, Porsche Digital Lab and Volkswagen Digital:Lab
8.00 pm Creating innovation together – A Cooperation between Driveby and Volkswagen Commercial Vehicles - Talk
8.30 pm Blockchain – a technology with chances for automotive financial services and of the future – Talk with Volkswagen Financial Services
9.00 pm Successful Startup Matching and Collaboration – Panel with Ideation:Hub and LoyalGO
9.30 pm Scouting Globally, Implementing Locally – Talk with SKODA AUTO DigiLab
10.00 pm Open Mic The timeline are only approximate times – changes in the order are not excluded
Maybe there will still be changes of the times.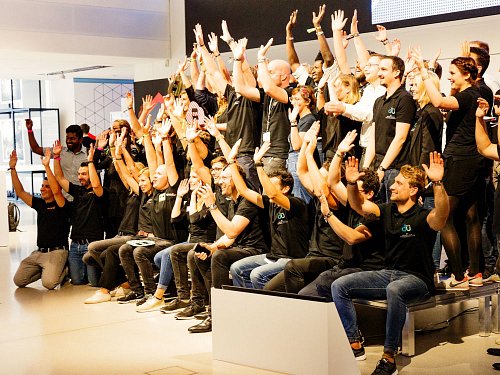 Pitch sessions at Startupnight
This year we will have again pitch competitions on our main stage, but offer additional pitch opportunities for the participating startups.
There will be side stages in the locations, where startups can pitch, as well as the Pitch & Pitchers event on Thursday afternoon. This event is only open for our startups, partners and investors.
Start Jerusalem Competition

Start Jerusalem Competition
Start Jerusalem is a global competition organized by The Ministry of Foreign Affairs and the Jerusalem Development Authority, which brings together startups from 35 different countries to compete for the opportunity to take part in a 5-day innovation experience in Jerusalem, Israel - one of the world's leading tech ecosystems.
Start Alliance

START ALLIANCE goes NYC!
In the sense of "if you can make it there…", Start Alliance is offering you the possibility to go to the biggest and most important city in the USA and to test your product on the American market! The winner of the pitch will receive a fully paid five day trip to New York City for our Start Alliance New York program.

Workshops at Startupnight
This year again we are able to offer you interesting workshops with experts from our partners.
Avnet Silica IoT Workshop

With Avnet Silica's supplier portfolio and expertise, you can get your product development fit for the future – with the Internet of Things. Find out how to add sensors, MCUs and communication modules to your products and connect them over the internet. You'll future-proof your products and benefit from strong demand in a wider market.
The workshop will take place at Deutsche Telekom's Representative Office from 1:30 pm to 5:00 pm.
Here is a the general agenda:
Avnet Silica introduction / Connected ecosystem for startups and IoT projects
Internet of Things Overview
Connectivity
Coffee break / Demos
Security in Connected Systems
Rapid IoT Prototyping Kit
The participated sponsors of this workshop are ON Semiconductor, NXP and Microchip.
This ticket is also valid for Startupnight starting 5:00 pm on September 7th.