Startupnight 2019
Yeah! The seventh Startupnight will happen on September 6th in several locations in the heart of Berlin. The exhibition opens at 5 pm and closes at midnight. We expect 250+ startups from cutting edge focus areas.
Our program features parts exclusively for startups, corporates, investors and other professionals, and the exhibition with all our cool startups. Here they will present their companies and their latest innovations, as well as offer a look into newest technologies. On our main stage in the Telekom location as well as on the stage at the Volkswagen location we will have an exciting program which you will find below.
We will fully focus on startups and on matching them to our large network of corporate partners and 50+ VCs with a strict no BS approach. We will provide numerous opportunities to pitch (on stage or in speed dating sessions) and will introduce our new match making tool. The program also includes corporate challenges and workshops on different topics.
You are interested, but neither a partner nor a startup of Startupnight? We have good news – you just have to get our Professionals Ticket here |LS|link|RS|.
Startupnight – The only night you need!

The program on the main stage
This is the program on the main stage at Deutsche Telekom's Representative Office.
05:00 pm — Open Doors
05:15 pm — Opening
06:00 pm — Road to Deutsche Telekom
07:00 pm — Technology Review TR35 Award
08:00 pm — "How VCs approach Series A Investments" by GPBullhound
09:00 pm — Start Alliance Goes China - Finals
10:00 pm — Surprise Act
11:00 pm — Startup Choice Award & Closing
00:00 am — Live Band
01:00 am — Aftershow Party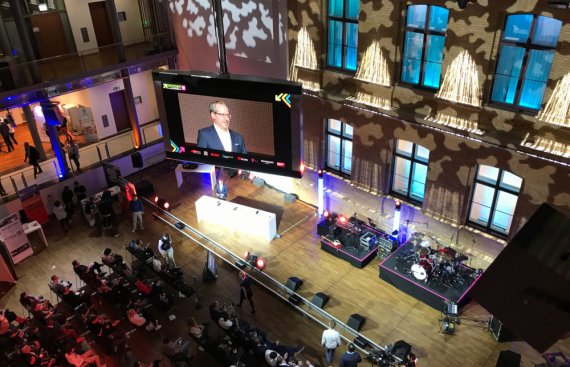 We are preparing much more for Startupnight 2019. As soon as the program is set, we will announce all details.