ThankU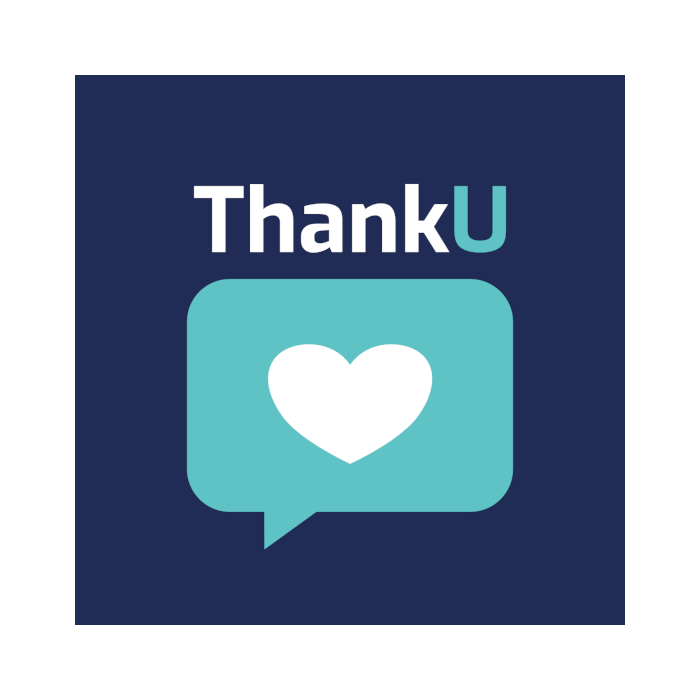 Say thank you to a friend or a business partner with a ThankU! The Clou: each ThankU contains a donation for a good cause (e.g. planting trees).
---
On ThankU (www.thanku.social) you can thank others with a donation. ThankU users can choose from three good causes: Planting trees, removing plastic from the ocean or protecting animals. The clou is, that with just a few clicks you can surprise business partners or firends who have helped you with a personal ThankU message and a donation as a thank you. 
Lukasz Belza, a lawyer in the Berlin start-up scene (tape.tv, YEAY) had the idea for ThankU when he was repeatedly asked by friends and colleagues whether he could privately quickly answer a legal question. "I thought it would be nice if I could ask for something in return for these favors, but not for my own pocket, but for example a donation to plant trees." reports Lukasz Belza. His vision: People use ThankU in everyday life to thank others and thus activate previously unused donation potential for good causes.
As a non-profit organization under German law (gUG), ThankU is entitled to issue donation receipts to donors. These can be requested easily with a click once the donation has been paid. Users can inform themselves about the use of the donations in financial reports published online. 
ThankU is aimed at both private individuals and companies who want to thank customers or business partners for a purchase or a successful project with a ThankU and want to do good at the same time. ThankU offers a business parter program for businesses interested in using ThankU.
For businesses ThankU works perfectly as a marketing tool with environmental impact (say thanks to a client with a ThankU for a successful project or the signing of a deal).
How ThankU works
Go to thanku.social in your browser and click "Say ThankU"
Choose a good cause and a donation amount
Enter the name of the ThankU recipient and a personal thank you message 
Pay your donation and share the ThankU with the recipient via a link
Senders and recipients can collect their ThankUs on their personal ThankU pages and share the pages with others according to the motto "Do good and talk about it". 
About ThankU 
thxto gUG, based in Berlin, operates the social giving platform ThankU (www.thanku.social). ThankU was founded in June 2020 by Lukasz Belza (Managing Director), his brother-in-law Martin Belza (CTO/CPO) and Dr. Carsten Emil Meyer (CFO) as a non-profit enterprise and was realized without any outside capital. Users can use ThankU to thank others with a virtual "ThankU" with just a few clicks. In addition to a donation for a good cause (e.g. planting trees), a ThankU contains a personal message for the recipient. ThankUs can be collected by users and shared with others via a personal ThankU page. Donors can receive a donation receipt.
E-mail: lukasz@thanku.social

 
Location
Germany, Berlin
---
---