myTalents Community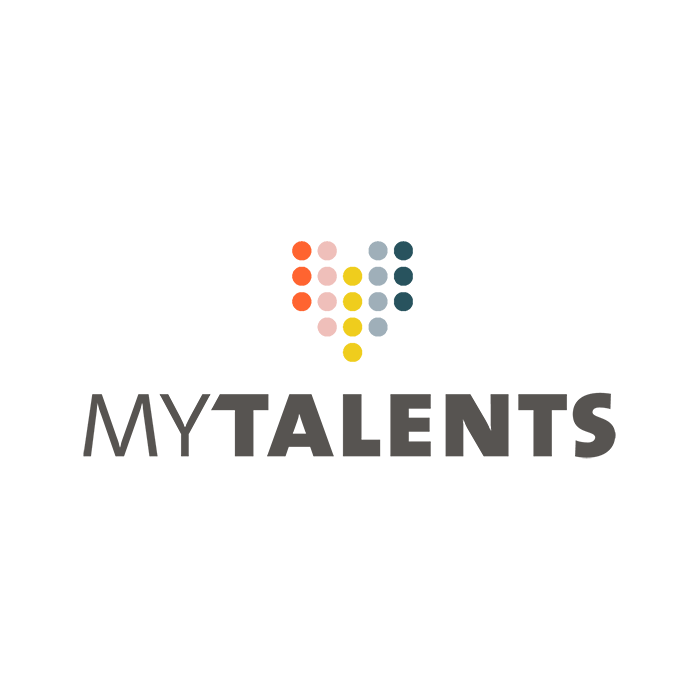 myTalents.com is the new edutainment platform for online and offline workshops.
---
myTalents.com is the new edutainment platform for online and offline workshops. We want to revolutionize the market by becoming the most creative, diverse and personal edutainment platform worldwide. We will achieve this goal by giving everyone the opportunity to share their talent, their very individual passion and creativity with the world and to offer their own workshops via the platform: No matter if it is design or art courses, barista workshops, vegan online cooking courses, magic courses or gin-tastings.
PROBLEM & SOLUTION // myTalents stands for passion, creativity and diversity, which is why the platform is open to all offers that comply with the community guidelines. Our aim is to help our three target groups equally and to meet their requirements:
The population: There is a great need in our society for extraordinary experiences and leisure activities that can make the family, everyday and relationship life more varied. Not only, but especially now during the Corona pandemic, we long to learn new things, meet new people and rediscover ourselves. -> At myTalents you will find creative experiences and the opportunity to meet like-minded people who share your passion. 
Companies: Companies are looking for offers for customer and team events. Classical workshops cannot take place due to the Corona Pandemic, virtual alternatives are unknown. -> myTalents organises all kinds of virtual events for companies with extraordinary experiences from and with the talents, for example virtual Christmas parties, teambuilding experiences and customer events. And on request, myTalents will also send a small package to all participants.
The talents: Many unique course and workshop offers in our cities today still remain "well hidden" in a backyard shop or on a small website, where they are unfortunately discovered by too few people. Besides the classic self-employed there are countless hobby talents among us who would like to introduce themselves and their offers to a larger audience. The challenge for most of them is the lack of visibility and marketing know-how. -> myTalents offers the talents the platform for the easy marketing of their workshop offers and for the development of their own customer community. On our platform and in the talent community, the talents find support on almost every topic: contact persons, tips, help videos and support offers for the many questions of marketing and self-employment. 
On myTalents.com supply and demand for edutainment offers find each other. 
USP // mytalents.com is the first p2p platform for edutainment offers - from everybody to everybody. There is no simpler, cheaper and more target-oriented way on the market to realise and sell your own workshops, activities and courses. That´s how myTalents.com creates a completely new market for edutainment offerings. 
MARKET & COMPETITION // In Germany alone, € 32 billion are spent on leisure and cultural services every year, with a strong upward trend (source: Destatis), worldwide around € 700 billion (own calculation). The market is extremely small and is served by self-employed, part-time self-employed and hobbyists in the individual cities. NEW WORK increases the availability, variety and quality of the offer (source: Bertelsmann). 
Competitive situation with national platforms: 
Airbnb Experiences: experience market for travellers
Jochen Schweizer: Market for adventure gifts
Eventbrite: Market for business seminars
ArtNight: Standardised art courses
TheMakery: Classical workshops in five cities
Makerist: Online workshops with handicraft offers
TEAM // Our team consists of five people: 
Christian Scherer (CEO & CoFounder: Entrepreneur with the mission to offer all creative people a springboard to independence, 9 years of experience in sales and project management, Master of Science in Business Management
Michel Wiskandt (CPO & CoFounder): Enthusiastic founder, offers magic workshops, 5 years of experience in product development, strong trial & error philosophy, Bachelor of Engineering in Mechatronics
Peter Vogelmann (CTO): Nine years of experience in software development, team and project management; Bachelor of Arts in Business Administration
Juliana Riz (Head of Marketing): Over five years of experience in marketing with various start-ups, agencies and corporations; Bachelor of Arts in Marketing
Michael Bogdan (Head of Infrastructure): Over six years of experience in software development, specialising in server and backend technologies. Bachelor of Science in physics
TRACTION // We were founded in September 2019 and have gained two pre-seed partners, the state of Baden-Württemberg and MVV Energie AG. Our platform has been live since spring 2020. Traction: We currently have 150 talents with active offers and 500 bookings from paying customers. The average checkout is € 55 and on average 1.4 tickets are purchased (customers buy to enable shared experiences). During the Corona period, we were able to expand our range of online experiences in particular and attract new talents and customers. Around 60% of our talents and 60% of our customers are female.
FINANCIALS // We are currently financed by the Start Up BW Pre-Seed Programme and our co-investor MVV Energie AG (convertible and participating loan). In order to initiate the growth phase in the 2021 financial year, we plan to collect € 600k in seed investment. 70 % of this will be invested in marketing (customer and talent acquisition) and 30 % in human resources. 
ASK // We are looking for Angels and VC who believe in our mission and the market. Besides financial support, we are looking for experts in marketing and scaling of platforms.
Location
Germany, Mannheim
---
---