tacterion GmbH
IoT/Wearables

@DRIVE. Volkswagen Group Forum

DRIVE. Volkswagen Group Forum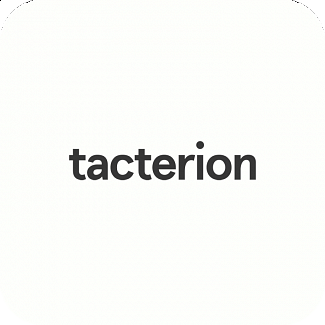 tacterions technology, a sensitive and flexible surface layer called sensorskin, enables design-driven and human-centered innovation to help create the next generation of truly interactive and human centered products.
 
What is the problem you are solving?
With sensorskin we enable designers to think products different and truly human-centered. With our technology every surface can be made touch sensitive, allowing the technology to step back and put the user in front. With our help, world-known companies will create human-centered products that completely revolutionize way we interact with technology. E.g. the direct collaborating of workers and robots will be made even more intuitive than today, using out technology. With the combination of our unique hard- and software as well as design know-how, engineers and interface designers realize a more natural and individual user experience than ever before - driven by haptics.

What is unique about your solution?
There is no other technology that allows to equip highly complex and soft surfaces with sensors offering our flexibility and durability. sensorskin is stretchable, sensitive and tough. With this technology we are at the forefront of the tremendously growing market of stretchable electronics. The patented technology was originally developed at the German Aerospace Center (DLR) to give robots the sense of touch. We work together with world-leading companies from different industries, enabling their future innovations. By implementing sensorskin, our customers create the next generation of intuitive Human-Machine-Interfaces and truly responsive products. But sensorskin also increases efficiency in connected industrial applications through the monitoring of flexible components and parts. The data our sensors generate enables e.g. predictive maintenance scenarios in circumstances where not possible before. Target markets are Human-Machine-Interaction in Consumer Electronics (Virtual Reality, Gaming and more), Robotics, IIoT (Industrial Internet of Things), MedTech and Automotive.
---
Part of Startupnight / its events in
---