GESTALT Robotics
Hardware/Robotics

@Deutsche Telekom's Representative Office

Deutsche Telekom's Representative Office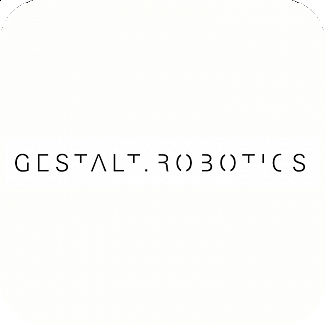 GESTALT Robotics is providing cutting-edge robotic solutions based on computer vision, modern ICT-concepts and latest technologies.
What is the problem you are solving?
We provide extensive expert knowledge in the fields of robotics, computer vision, interaction and VR/AR tackling service automation problems from intuitive user interfaces to building own robotic hardware. 
On this basis, we provide integrative perception-centered cognitive control solutions. Our algorithms and products are merging and processing multimodal sensor data for a deep environmental understanding. We are programming service and social robots for events, showcases, cleaning, logistics, retail integration and concierge services. Furthermore, we tackle advanced user interaction systems for robots focusing on natural communication and social interaction. We also enable Augmented Reality and Virtual Reality in robotics in order to provide interactive monitoring, simulation and programming systems. Our interaction systems have standard interfaces towards industrial and service robots and are easy to integrate into existing solutions. 

What is unique about your solution?
We create robotic solutions covering software and hardware putting an emphasis on the perceptual intelligence. In combination of a computer vision and modular hardware concept, GESTALT Robotics is able to provide more intelligent robot solutions regarding environmental analysis premised on a highly-scalable base. Since research institutes are focused on basic research and information oriented companies such as Google, Amazon or Microsoft are more focused on information acquisition than on robotic solutions, GESTALT Robotics is focusing on specialized, privacy-aware, close-to-market product development together with partners in different industries. This enables GESTALT Robotics to offer and reuse cutting-edge technology solutions on specific markets and to minimize the development cost.
---
Part of Startupnight / its events in
---