Start Jerusalem Competition

Apply now with your Start-up and win a free trip to Jerusalem
For the fourth time, the Start-up-nation Israel is hosting a competition; the winner will receive a free trip, with a prestigious program of one week. With a bit of luck "Start JLM 2018" will get you and your Start-up to Jerusalem.
The application is closed now.
Why Jerusalem

With over 500 Start-ups like Mobileye, OrCam Technologies or Lightricks, international investment funds such as JVP (Jerusalem Venture Partners) and OurCrowd, leading international academic institutions like the Hebrew University Jerusalem and the Bezalel Academy of Arts and Design, Jerusalem is a bustling, flourishing tech-innovative center. In addition, Jerusalem has a vibrant entrepreneur community. Last year, it was ranked in several places, including TIME Magazine, as one of the growing ecosystems of the world. Startup Genome referred to Jerusalem as a hub for biotech and life sciences in Israel.
The Prize
Between November 11 - 17, 2018, the winner of "Start JLM 2018" will, together with other winners from all over the world and young Israeli entrepreneurs, take part in workshops, establish contacts with Israeli and international companies, business angel-investors, Start-ups, scientists and developers. The winners will present their ideas to high-ranking investors and be inspired by a pulsating, vivid and creative scene.
Participation requirements
All Start-ups present a basic product and are eligible to apply. The closing date is August 12th 2018.
Given Jerusalem's advantages, Start-Ups with an emphasis on "Health & Life Sciences" focusing on "Digital Health", "Medical Tech", "Assitive Technology" and "Health Care IT", will be given preference.
The Start-up has to be in a relative early phase (Seed Stage).
The age of the applicants should be between 24 and 35.
The winner, who will travel to Israel, must be the founder or CEO of the company.
After the application process closes, a jury will pick three finalists, who will be invited to pitch their idea in front of the jury and audience at the "Lang Nacht der Start-ups" in Berlin on September 7, 2018. During the event, the winner will be announced.
Important dates
August 19, 2018: application deadline
End of August: jury vote, contact with finalists
September 7, 2018: LIVE PITCH by the three finalists; FINALE and announcement of winner
November 11 - 17, 2018: trip to Jerusalem
Good luck - behazlacha!
For further information, please contact: pr6@berlin.mfa.gov.il
Impressions from last year's final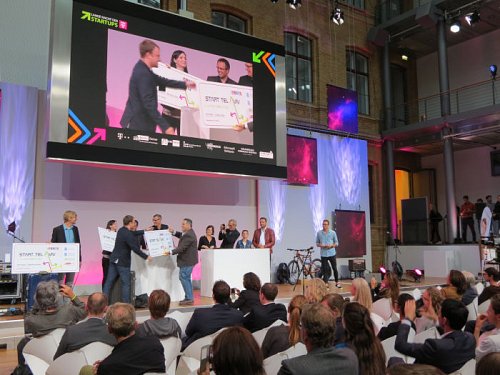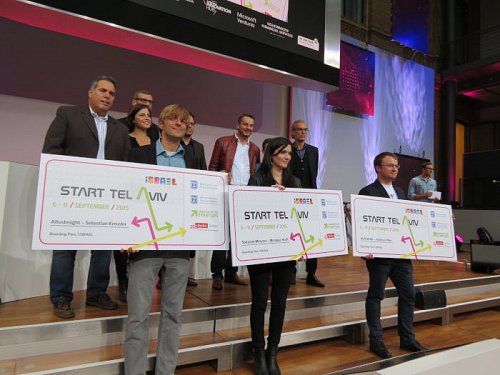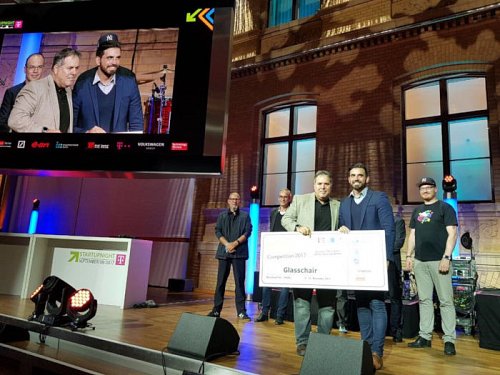 Program Agenda
Start JLM brings together young start-up founders from around the world for a five-day dynamic experience. The program will help them gain momentum for their entrepreneurial journey and is a unique opportunity for the founders to engage with Jerusalem's leading entrepreneurs, investors and domain experts. The participants will also enjoy exsome world class entertainment pieces.
Professional Content (facilitated by Jerusalem's leading start-up accelerator)
The program will expose participants to many of the issues that relate to start-ups and successful tech companies and will comprise high-end content and mentoring by the leading movers and shakers of the Jerusalem innovation scene.
The workshops will include 7 main pillars:
#JLMstars - Inspiring and mind-opening talks from the most prominent entrepreneurs and investors in the Jerusalem start scene. Such as Ellie Wurtman, Pini Lozowick, and more.
#FastForward - A unique glance into the future of innovation with some world-renowned visionaries and innovators such as Saul Singer and Jon Medved.
#ThinkDifferent - Immersive, hands-on workshops led by local experts. These workshops, all of Israeli origin and invented by Israeli entrepreneurs will expose the StartJLM2018 participants to innovative thinking methods and new collaboration exercises.
#BioFeed - State of the art lectures by entrepreneurs and professors such as professor Yaacov "Kobi" Nahmias, Dr. Yaron Danieli and Proffesorn Oded Shoseyov showcasing the latest innovations in BioTech.
#SiteVisits - Fascinating tours throughout the key players in Israel and particularly in Jerusalem such as Orcam, TEVA Pharmaceutical Industries and more.
#NetworkingJLM – Meetups, speed-dating and mentor sessions aimed at expanding the participants' network and enhance the connection to the Jerusalem startup ecosystem.
Experience Jerusalem (facilitated by one of Israel's top professional producers)
The "Experience Jerusalem" components will accompany the professional program and aim to expose the participants to the city's history, culture and charm.
#WarmWelcoming – Intimate encounters with Israeli leader.
#JLMvibe – Buzzing social/professional events and special dinners that will expose the StartJLM participants to the unique Jerusalem communities and people.
#Fun&Tours – Insightful and breathtaking tours around Jerusalem's prime locations and tourist attractions.
For additional information please visit www.StartJLM.com.
**The program's costs are fully funded by the organizers.